Goose Green Councillor Newsletter - September 2019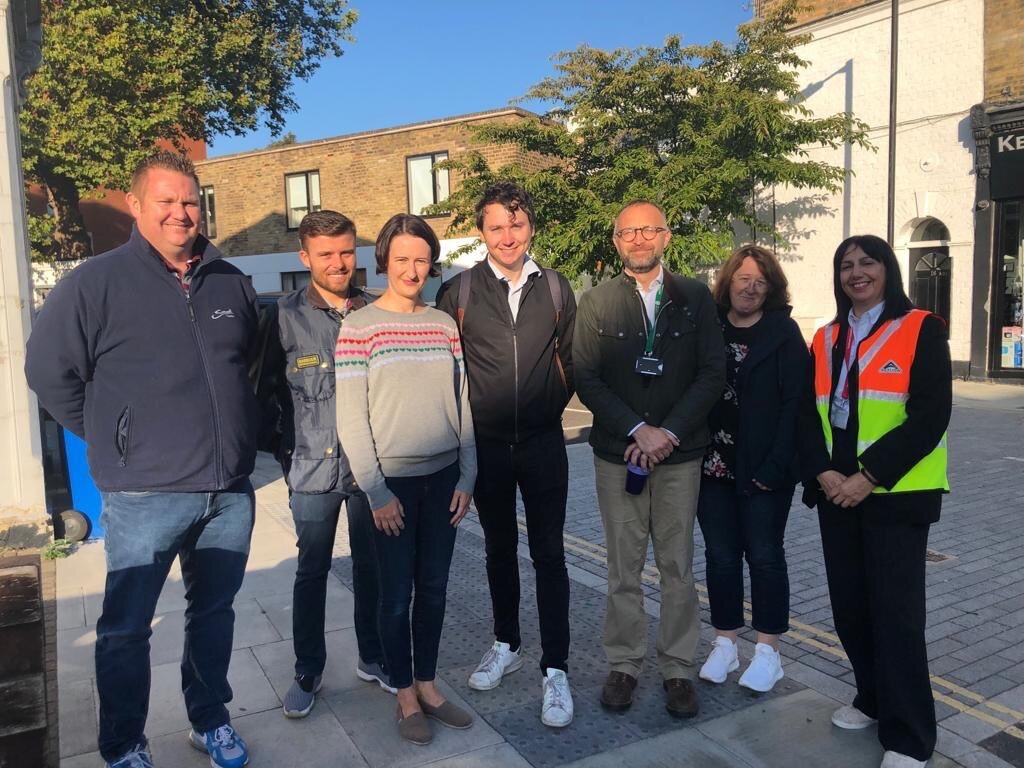 This is one of our regular newsletters. They are posted online and emailed out to anyone who signs up here.
Work in the community
Here is a sample of some of the work we have done in September.
Oru Space (20 Lordship Lane)
James and Victoria attended the consultation event at 20 Lordship Lane on 1st October. When it opens in January, the building will have shared working space on the first and second floors, and a public area on the ground floor. The OruSpace team have lots of ideas for how to make the environment open, inclusive and exciting. They have the contract for 15 years so we want to maximise community involvement at the beginning of this longterm project..
Road safety around schools
This continues to be a major issue in Goose Green. James has been liaising with the Headteacher at Heber Primary School, Rivka Rosenberg, and has arranged for new Keep Clear Markings to be installed on the road outside.
On the morning of the 20th September, James joined other councillors and council officers to meet the Headteacher of Charter East Dulwich, Alex Crossman, at school opening time. We observed the junction between Jarvis Road and Melbourne Grove and saw many examples of unsafe driving and parking. We are liaising with the school and local residents to work out what measures could be put in place to make the road safer for all road users.
North Cross Road mural and bags
Last year we councillors approved an application from local traders to support North Cross road and its market. We have been liaising with the applicants ever since and the project is really coming along. A mural will be painted early next month and "I HEART NCR" tote bags should be available soon!
Controlled parking zone consultation
The detailed proposals the 'Peckham West' and 'East Dulwich' controlled parking zones are online here: You can respond by writing to traffic.orders@southwark.gov.uk before 17th October.
Empowering Communities
We are in the process of organising a ward forum on air pollution, with a focus on local solutions. Do you have any ideas? If so, let us know!
Wildflowers
James met with Jon Best, the council's ecological officer, on 6th September to look at sites which could host wildflowers. Flowers play an important role in supporting endangered bees and butterflies, which are vital to our ecosystem. We visited the wildflower patches in Goose Green park which have sadly become overgrown, and a number of other spots across the borough. James is looking to get funding to plant more eco-friendly flowers across East Dulwich, and to make sure that there is money committed to their upkeep.
Cleaner Greener Safer and other funds - 7th October
Applications are now open for three pots of money for local residents. The deadline for all three is 7th October
Please consider submitting ideas for one of these. And if you do, please let us know!
Health and Social Care Scrutiny Commission
The next meeting of this, chaired by Victoria, will be 14th October 7pm. The topic for debate and review will be Mental Health, special focus on BME communities and also male suicide rates. If you want to attend email Julie.Timbrell@southwark.gov.uk
New council homes!
On 1st October Southwark Council's Planning Sub Committee A approved the development of four new family council homes on Bassano Street.
Tessa Jowell Health Centre
Following a public vote, the new medical centre on East Dulwich Grove will be named Tessa Jowell Health Centre. Thanks to everyone who voted!
Audit training - 18th September
James is the chair of the council's Audit, Governance and Standards Committee. Perhaps not the most exciting topic but important nonetheless. James attended a day-long training event hosted by CIPFA (Chartered Institute for Public Finance and Accountancy) so is now better equipped to carry out this work.
The circus came to town!
Zippos Circus was on Peckham Rye at the end of September. James arranged for a local family to be given free tickets to attend.